Sequoia and Kings Canyon National Parks are located approximately halfway between Los Angeles and San Francisco. The parks are about a 5 to 6 hour drive from either direction. The parks are approximately one and a half hours from Fresno, CA.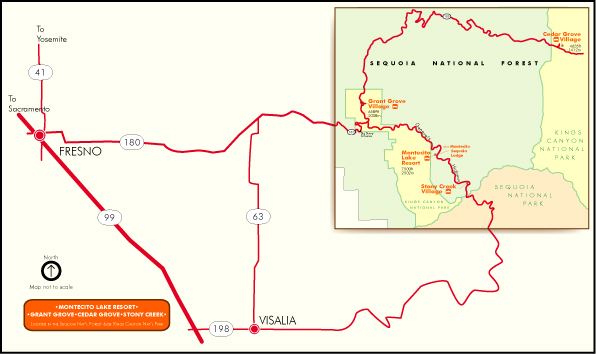 Download the large format JPG or PDF of this map.
Driving Directions for Sequoia & Kings Canyon National Parks
Big Stump Entrance (Main entrance for Kings Canyon and "back door" for Sequoia):
NOTE: We DO NOT recommend taking Hwy 245. It is 31 miles of a zigzag, winding road with speed limits of 15 mph. Some computer maps suggest this route as the "shorter route". We suggest you use Hwy 180 which is a significantly easier road to drive and is traveled at approximately 45-55 mph.
For Stony Creek Lodge & Montecito Sequoia Lodge
The Generals Highway, Giant Sequoia National Monument
Take Hwy 99 to Fresno. Then take Hwy 180 East about 53 miles to the Big Stump park entrance. Once you've paid your ($30) entry fee to the parks, continue on Hwy 180 for 1.7 miles, then veer right at "The Wye" onto the Generals Highway, towards Sequoia National Park. Follow the Generals Highway for approximately 11.7 miles. The Stony Creek Lodge entrance will be on your right.